Just find out about a surprise drug test on short notice?
This sort of thing happens all the time. You're all a sudden subject to a surprise drug test. Now you're panicking about your future and searching the internet on the best way to pass a drug test on short notice. Well a drug test can mean any number of things. You could all a sudden have to pass a mouth swab drug test. It could mean that you are suddenly subject to a blood drug test or a hair drug test. But in most cases it means that you'll have to submit to a urine drug test. And in most cases what test-takers are primarily looking for is marijuana use.
---
iPass Now Stoned Tip—The most common drug test is the urinalysis so use SubSolution synthetic urine or fast-acting detox pills.
IPassNow Recommended
 to Pass a Urine Test on Short Notice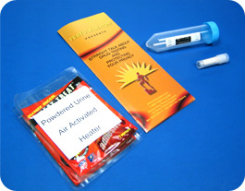 Urine Simulation with Powdered Urine Kit
The powdered urine kit is the people's choice when a real urine simulation product is needed. This is the only product we recommend regardless of the sophistication of your experiment. Includes all vital chemicals including uric acid.
At home, ~45min-1Hr before your experiment, mix with room temperature water and stick the heater on the vial opposite the temperature strip, read the temperature strip, proceed with your experiment.
The powdered urine kit looks, smells and behaves chemically as drug-free human urine. This gives you complete confidence knowing that the fake urine is able to meet the requirements no matter the sophistication of the experiment.
We give you everything but the water – drug-free powdered urine, a 50-ml plastic medical vial, an air-activated heater that lasts six hours, a temperature strip, and an instruction sheet that includes hints and tips.
The plastic transportation vial that comes with the fake urine kit can hold 50 ml. Guidelines state that you need to submit at least 45 ml for your sample to be considered valid. We give you 5 ml extra, but you can add 25 ml of extra water if needed. The more the better.
The air-activated heater included takes about 45 minutes (depending on ambient temperature) to get room temperature water in the vial between 90 and 99 degrees.
The temperature strip, which reads between 90 and 100 degrees, is highly accurate, reusable and the highest quality component of the kit, so you know exactly when you are good to go.
Extra heaters are available at the time of purchase. They are recommended just in case the test gets delayed.
A Digital Thermometer is also available at the time of purchase. Some people find it helpful to use a thermometer to make double sure that the urine temperature is in the right range. This option is highly recommended.
An option for an extra vial is handy for experiments that do not follow the testing guidelines. You can dilute the synthetic urine that we give with 50 percent more water (25ml) without causing any adverse affects.
Since the powdered urine is toxin free and used to calibrate drug testing machines, it has never failed an experiment in the history of the product.
If you are an instructor or educational institution that wishes to purchase the Fake Urine Kit for your classroom or lab please contact us for educational discounts. We are also able to offer discounts to movie studios that wish to incorporate the product in their production as a prop.
The powdered urine makes a great gag gift or bed wetting prank.